Less Sodium, More Potassium: A Better Balance
By Kimberly Beauchamp, ND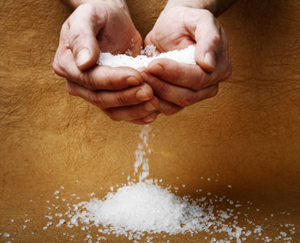 The connection between sodium intake and the risk of death hasn't always been clear. But a study in the
Archives of Internal Medicine
recently found that there's more to the equation than sodium alone.
Potassium
, found especially in fruits and vegetables, can offer some added protection against dying from heart disease.
Adding up the risk
The new study used information from 12,267 US adults, in which they recalled what they ate over the course of a day. The study was part of the Third National Health and Nutrition Examination Survey Linked Mortality File, investigating the influences of
sodium
and
potassium
on the body. They were also looking at the ratio of sodium-to-potassium in the diet, on all causes of death, and heart disease over the course of 15 years. From the dietary recall information, researchers estimated usual daily intakes of sodium, potassium, and calories.
Here's what they found:
Higher sodium intake was associated with an increase in mortality from all causes.
Higher potassium intake was associated with a lower mortality risk: People with the highest potassium intake had a 61% lower risk of dying from all types of cardiovascular disease and a 74% lower chance of dying from ischemic heart disease (heart disease caused by impaired blood flow, usually a result of atherosclerosis) compared with people with the lowest intake.
Having higher sodium-to-potassium ratios significantly increased the risk of mortality from heart disease. For ischemic heart disease, the risk was more than two times greater among people with the highest sodium-to-potassium ratio than in those with the lowest ratio.
"From a public health point of view, reduced sodium intake accompanied by increased potassium intake could achieve greater health benefits than restricting sodium alone," said lead study author, Quanhe Yang from the Office of Public Health Genomics at the Centers for Disease Control and Prevention.


Say goodbye to salt

Try these tips to keep your sodium intake down while upping your potassium quotient.
Steam dark leafy green veggies like kale or collard greens and sprinkle with fresh lemon juice instead of salt for a side dish with a kick.
Opt for unsalted versions of staples like nut butters and replace salt as a seasoning with vinegar or herbs and spices like thyme, rosemary, black pepper, basil, garlic powder, or cilantro. The more flavorful the dish, the less salt you'll need.
Skip the packaged foods. Most salt isn't added at the table, but instead is found in prepared foods. Making meals from scratch can significantly decrease your sodium intake.
Focus on potassium-rich foods like Swiss chard, crimini mushrooms, Brussels's sprouts, bananas, strawberries, avocado, eggplant, broccoli, cucumbers, and spinach.
(Arch Intern Med 2011;171:1183–91)
Kimberly Beauchamp, ND, received her doctoral degree from Bastyr University, the nation's premier academic institution for science-based natural medicine. She co-founded South County Naturopaths in Wakefield, RI, where she practiced whole family care with an emphasis on nutritional counseling, herbal medicine, detoxification, and food allergy identification and treatment. Her blog, Eat Happy, helps take the drama out of healthy eating with real food recipes and nutrition news that you can use. Dr. Beauchamp is a regular contributor to
Healthnotes Newswire
.
Copyright © 2011 Aisle7. All rights reserved. www.Aisle7.net